Welcome
Welcome
Dear Students and Families,
Welcome to Pre A.P. and A.P. Language and Composition. I'm excited to get to know you, and I'm looking forward to a productive year. This year our curriculum again focuses on the semantics and syntax of effective English language communication including grammar, morphology, syntax, logic, analysis, and diversified reading. Pre A.P. students gain valuable expertise for pre A.P. 10 and rhetoric; students in A.P. Language and Composition exit with college research and rhetorical skills.
Grading: A.P. classes are fast-paced and demanding. Students are expected to manage their time independently, and wisely. NO LATE WORK IS ACCEPTED FOR THESE CLASSES. Students with an anticipated absence should submit their work BEFORE they leave. All students in these advanced language classes have multiple resources to support them in their quest for excellence: monthly calendar, printed as well as downloadable major assignments, study "buddies" as well as on-line study groups.
Special Activities: Each year we host multiple speakers and events. If you would like to visit, schedule a conference, or volunteer to help, please consult my contact page.
Once again, welcome to the world of A.P. Language and the best year ever.
Yours in education,
Julia Hutchins, MEd., Reading Specialist
Biography: I'm Miss Hutchins—A.P. English, Reading, and occasionally History of Art teacher. Most of my students call me "Miss H." Working with young people is the greatest adventure of my life; as a 4-H leader, a martial arts instructor, Upward Bound administrator, and as a college and high school teacher. Teaching at Mingus Union High School allows me to connect with a wonderful group of young people and their families; to support their incredible journey, everyday.
Training: I received my A.B. from the University of Michigan, Ann Arbor, and Masters in Secondary Education from Marygrove College, Detroit, Michigan. In 2008, I attained my Reading Specialist Certification and clinical practice with Northern Arizona University. I'm looking forward to completing my PhD in reading and cognition specializing in adolescent and adult literacy.
Personal: Teaching is my passion—you will frequently find the lights burning in my classroom. During the school year, I have the pleasure of working with the students of Mingus Union and in the summer you will find me traveling with the young people of Upward Bound. I'm always looking for ways to make the journey more meaningful for our students. When time allows I like to play Tai Chi, work with rescue "critters" at a local shelter, and cook.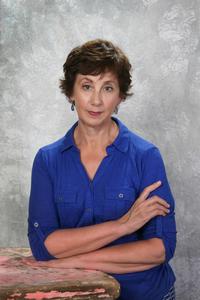 Miss Hutchins
OFFICE HOURS: Lunch/Mornings and p.m. by appointment